When a message is sent to you via Powered Now, but you do not have the app open to receive it, your iPhone/iPad or Android device will automatically display a push notification to alert you of the message.
Android settings really depend on the type of Android system you are running, however, the main settings are similar to iOS.
iOS can provide three types of notifications:
Sounds: An audible alert plays.
Alerts/Banners: An alert or banner appears on the screen.
Badges: An image or number appears on the application icon.
Please verify that your notification settings are turned on in both your Powered Now and iPhone settings:
Go to Powered Now > Settings > General Settings > Notifications and check that Show Notifications toggles are enabled for the things you would like to see.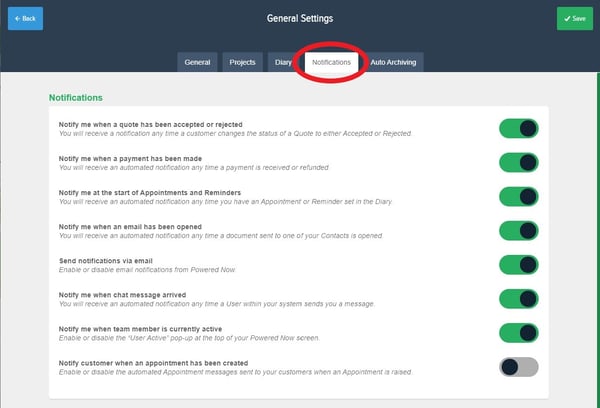 Go to iPhone/iPad Settings > Notifications > Powered Now. Set your preferences for Alert style (Banners, Pop-up alert, or None), Badges, and Sounds. If you want notifications to appear when your phone's display is off, enable Show on Lock Screen.
The alert sound volume is controlled by your iPhone's ringer volume, which can be set in iPhone Settings > Sounds. Here, you can also set your Vibrate preferences.
Troubleshooting notification problems
If you have verified that your notification settings are correct in both iPhone settings and Powered Now settings and you do not receive notifications, this is more than likely an issue with your connection, iOS or Apple's Push Notification Service.
Please note that delivery of notifications is controlled entirely by Apple's Push Notification Service (APNS), and Powered Now has no way to resolve issues with this service. If someone sends you a message while you are offline, that message will be sent to APNS to be delivered to your phone. Powered Now has no control or visibility over the delivery of these notifications. The issue may be presenting itself in Powered Now, but the issue derives from APNS or the iOS.
Typically, the only way to resolve this issue is to restore the phone to factory settings and set the phone up as new. If you restore a backup, you will likely restore the issue as well.
Powered Now also monitors the opening of mail, such as an invoice sent to your customers and alerts you to the opening via a Push Notification. However, a very small number of email providers block this message, AOL and Hotmail accounts can be the most temperamental.
Also, note that push notifications require a valid SIM card and an active Wi-Fi or cellular connection.