Invoice Payment for Small Businesses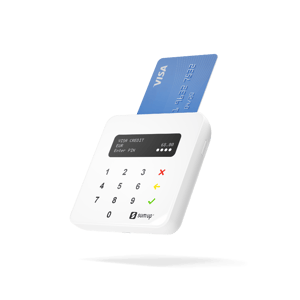 Taking payments electronically makes it easier for all parties and avoids the problems and hassle that handling cheques and cash can bring. Plus the ability to take credit cards means that credit is available to your customers without you taking any risk. It's better all round.
As well as bank transfers, there are two other ways that you can take payments from customers electronically :
Face to face taking credit or debit cards using a card reader

Where your customer clicks a link and can pay online using a credit or debit card
Powered Now is the only affordable and easy to use app that lets you run your trade business on the go. You can Invoice, Quote, Schedule your jobs and team, certificates and paperwork in one place.
Face to face payments
Powered Now works with SumUp to make the whole process of taking card payments incredibly simple:
You buy a SumUp card reader at the incredibly low price of £49 + VAT

You apply for a SumUp account. There is no application fee, no ongoing charges and no commitment

Every card is charged at the same rate, no fiddling around with different charges for different cards. Rates start at 1.69% but go lower on volume

You can take credit and debit cards, Visa and Mastercard and American Express, contactless or Chip and Pin

On site you generate an invoice, click "Pay by card" and the amount to pay appears on the reader. There are no wires and it could not be easier to take payments!

Speak to Powered Now sales team for further details and for help with your application
Buy a card reader
To get set up, just hit the chat in the bottom right hand side of this page and we can arrange your set up and send you a card reader.
Online payments
If you have a Paypal account this can be configured with Powered Now so that customers can pay your invoices without any intervention from you:
By clicking on a link from the email or invoice your customer can make a Paypal payment at the Paypal web site
If you hate paperwork and would like to learn more about Powered Now, you can book a free demo here.